Best Way To Read Forex Charts – How To Interpret Forex Trading Chart
Meet the three most popular Forex charts:
Linear chart
Bar chart
Japanese candlestick chart
To understand the charts better, let's look into the price moves first. Quite a few people heard about such market terms as Bulls and Bears. So what do they actually symbolize?
Bulls
Bull market means upstream market full of confidence and stability. Such market is characterized by high employment and strong economy that convinces brokers and investors of the upward market trend. The term comes from bull fights when the bull tosses the enemy upwards.
In other words, if you see the bull market you should purchase currency at a lower price and then sell it for more money.
Bears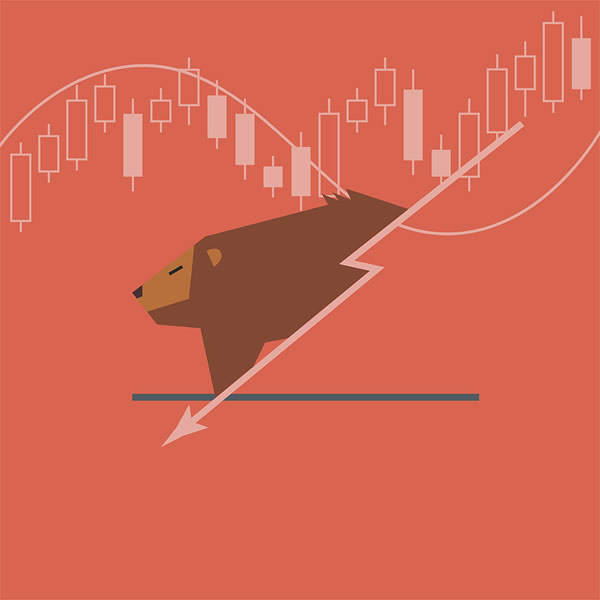 Bears foresee drops of asset prices or the whole market and take the short position. Similar to bears leaning hard on their pray and pushing it into the ground trader bears sell causing supply growth and price drops.
When the trader is sure of bears victory he takes the short position. This means the following: You borrow the currency from the broker and when the prices drop you return it but at a lower price, thus gaining profit.
Linear chart
Linear chart is a number of data points connected with one straight line. It shows how the price changed during a certain period and what was the price at closing.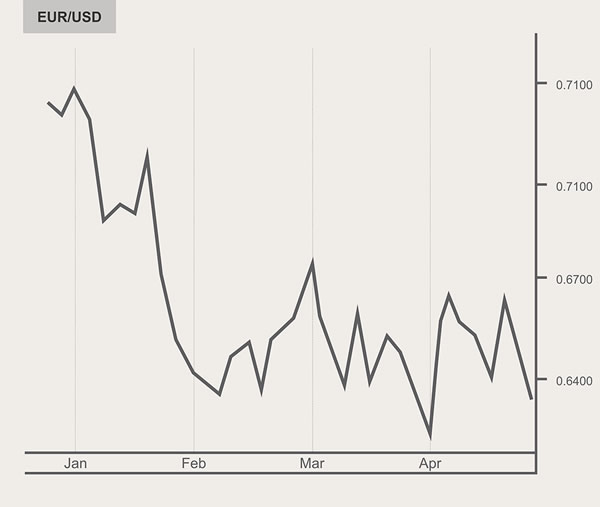 This figure shows a linear chart at a trading platform.
Bar Chart
Bar Chart is intended for technical analysis. It shows the highest and lowest prices that the asset was traded for during the day.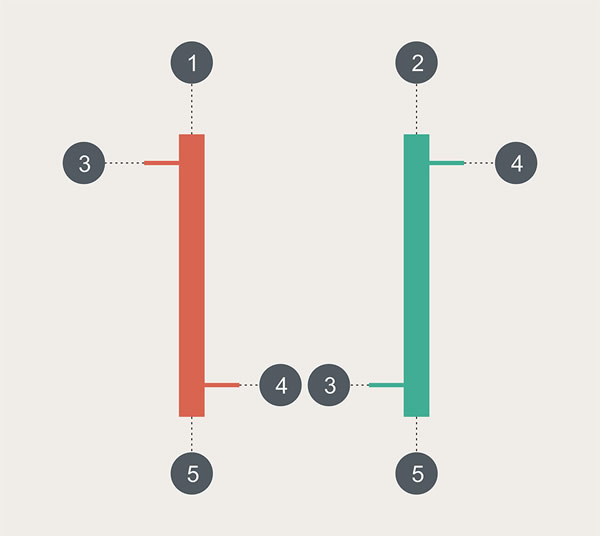 1. Downward trend (red/bear): the highest price of the day
2. Upward trend (green/bull): the highest price of the day
3. Opening price
4. Closing price
5. The lowest price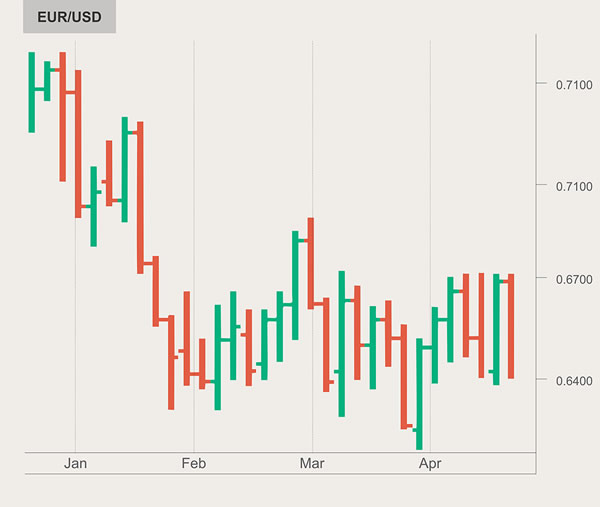 This figure shows a bar chart at a trading platform.
Candlestick Chart
Unlike the bar chart, the candlestick chart shows relation between opening and closing prices within one trading day.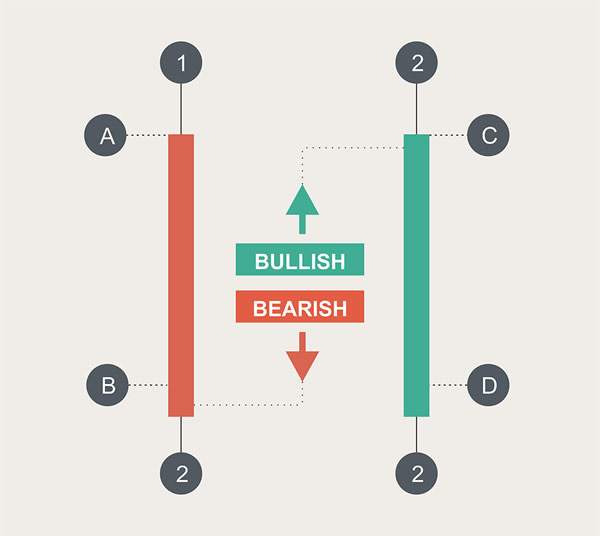 Bears: price goes down
1. The highest price: a) opening price; b) closing price
2. The lowest price
Bulls: price goes up
1. The highest price: a) opening price; b) closing price
2. The lowest price
Dual character of financial markets is demonstrated by bear and bull markets.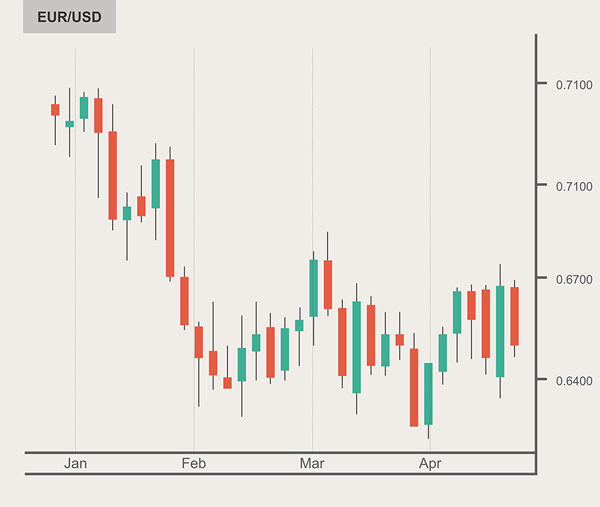 This figure shows a candlestick chart at a trading platform.
Analysis During Various Time Frames
The market can be analyzed in various time frames: minutes, hours, days, weeks or even months. Indicators may seem inconsistent but this is not the case. Certain trends are visible at long period charts while day and hour charts show best the time to open and close your positions.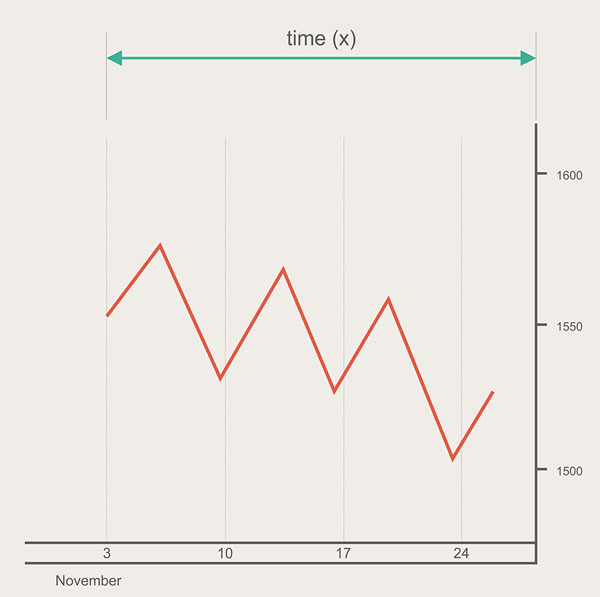 As a rule, inexperienced traders just looking at a day chart (see above) draw incorrect conclusions. This seems to be a downward trend and they place the stake for price drop.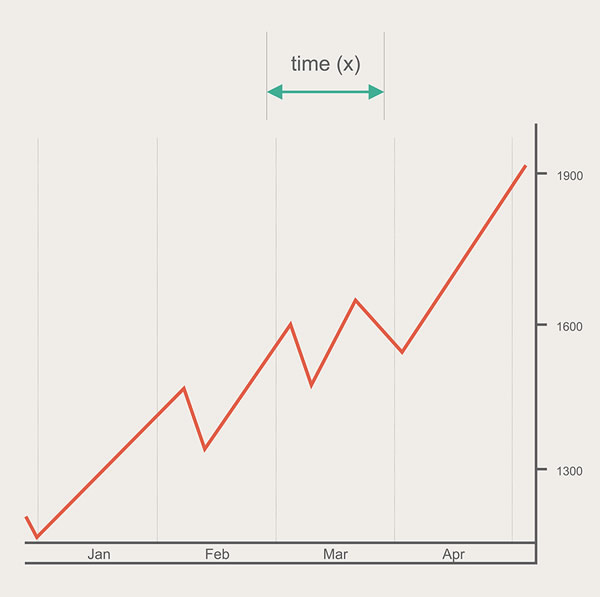 However, if you look at the same currency during a longer time frame (see above), the daily fluctuations turn out to be short term while the trend itself is bull (upward) not the other way around as you might have thought looking at a short-term chart.
Experienced traders use daily charts for trend detection and minute trends for favorable times for opening and closing.
Trends
Charts demonstrate the overall direction of the currency pair. Just points representing data and showing an upward or downward trend so that you can choose a favorable moment to purchase or sell.
Most Popular Trends:
Upward Trend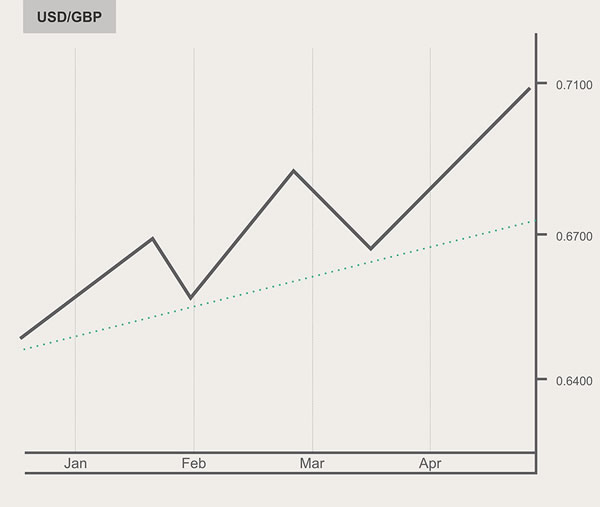 An upward trend means the currency price is rising. As you know this happens when peaks and drops are higher than the previous peaks and drops thus creating an upward trend. Follow the changes at trends and charts, this allows you to forecast an upward trend and develop the corresponding strategy.
Downward Trend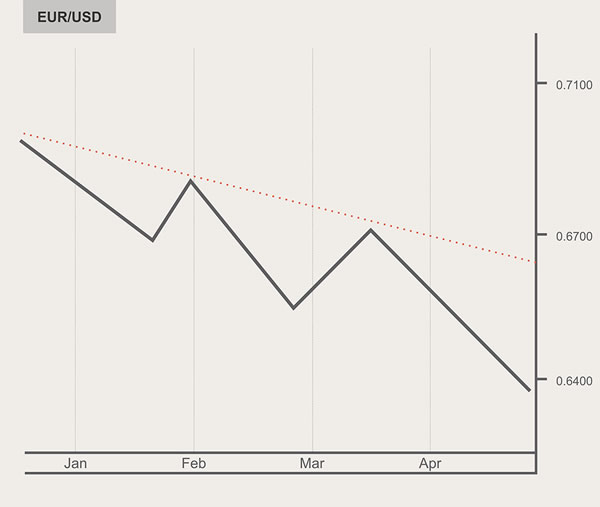 A downward trend means the currency price is falling. Downward trends may last a minute or even a whole year. The sooner you recognize it, the better are the chances of avoiding currency purchase with lowered prices. Downward trends are also good for selling without closing.
Sideways Trend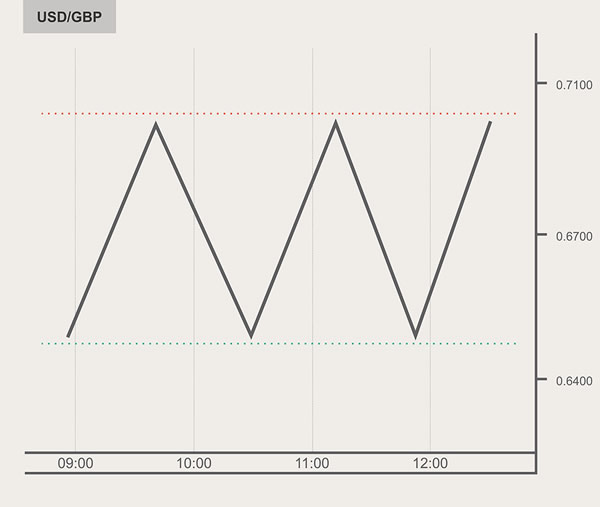 Sideways (linear) trend shows very small currency fluctuations. There may be some growth or drop but the overall trajectory remains linear. Beginners are highly recommended to avoid linear trends as their moves are too unpredictable even for experienced traders.
Trend Length
There are 3 main types of trend length at Forex market:
Short-Term Trends (Several Hours)
Mid-Term Trends (2-3 Weeks
Long-Term Trends (Several Months and Longer)
Trend length corresponds to the period of investment to get the return.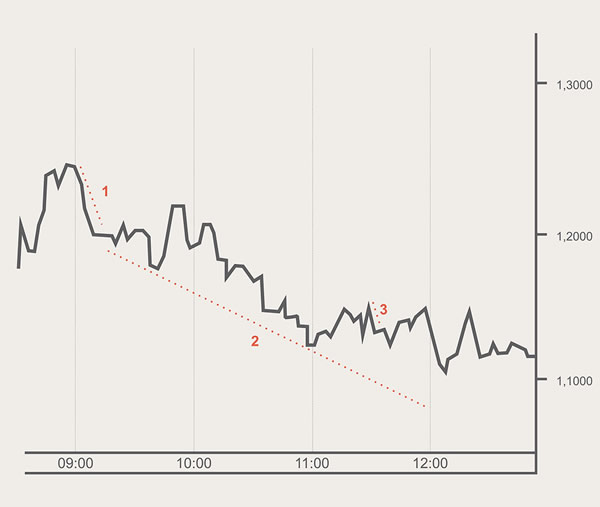 Do Not Risk Playing Against The Trend
Even if you see that the market is going down and potential of a short sell is higher than purchase potential (or long position), better focus on selling without cover. Going against the trend is an unnecessary risk